.
2017 Summer Camp Info
Sports Camp Sessions
S1: May 30th-June 2nd (4 Days $125)
S2: June 5-9th
S3: June 12-16th
S4: June 19-23rd
S5: June 26-30th
S6: July 10-14th
S7: July 17-21st
S8: July 24-28th
S9: July 31-Aug 4th** (Teach Appreciation Week)
S10: Aug 7-9th (2 Days $60)

Cheer Camp Sessions
C1: June 19-23rd
C2: July 24-28th
Sports and Cheer Sessions Prices and Info
Camp Fee: $150/Wk
Additional Child: $125/Wk
Camp Hours: 9:00am-4:00pm
Early Drop off FREE: As early as 7:00am
Late Pick-Up: $5/ HR
Daily Rate: $40/ Day
CLICK HERE FOR THE REGISTRATIONWeekly Activities
Inside and Outside Sports/Games
Inflatable Free Play
Trampoline/Foam PIt
Gaming Room
Water Day
Arts & Crafts
Pizza Party
and Much Much More
Preschool Camp Sessions
P1: June 12-16th
P2: July 17-21st
P3: July 31-Aug 4th

1st Child: $125/Wk
2nd Child: $115/WK
Camp Hrs: 9:00am-2:00pm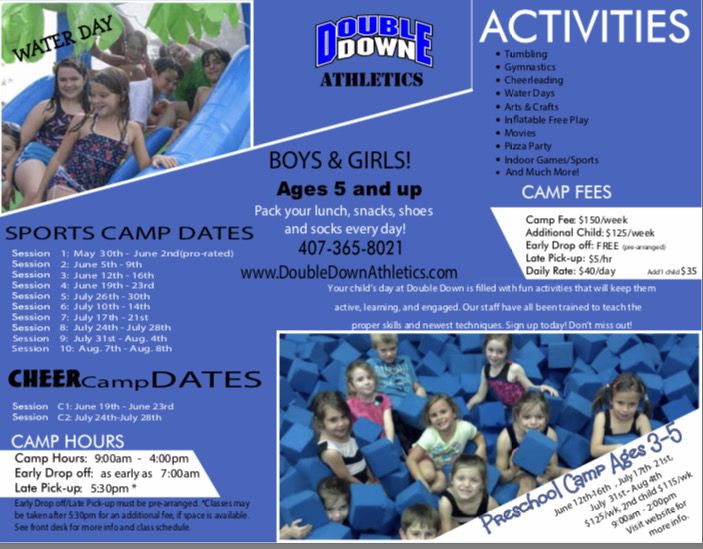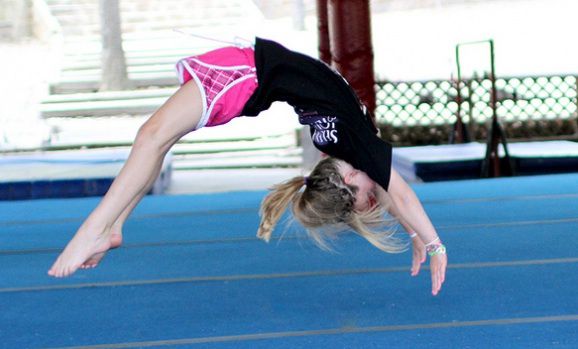 Tumbling Classes
Double Down Athletics is Central Florida's premier tumbling and recreational gymnastics facility. Our instructional program consists of multi-level recreational tumbling class. From levels 1-5 and ages 5 to 18 years old.

Gymnastic Classes
These classes are designed to be full of fun, music, games and exploring all the sport of gymnastics has to offer! Your children will explore events such as balance beam, bars, floor, vault, trampoline, rope, and more! Building self-confidence, body awareness, coordination and gross motor skills are an added bonus. While these classes are designed to be full of fun and lots of bouncing, we also focus on proper techniques and forms of gymnastics.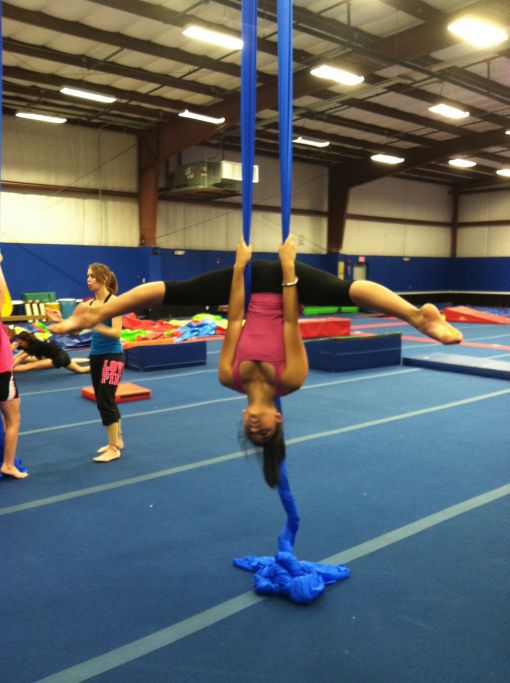 Aerial Silks
At Double Down Aerial Silks our main focus is incorporating fitness with fun. We train from the ground up to build the necessary strength to progress into more advance classes. If you have a dream of performing or just fitness this class is right for you. You work at your own pace and you will be flying before you know it. So take the next step whether you are a child, teen or adult.
Congratulation Summit Teams
3 out of our 4 Summit eligible teams are going to The D2 Summit!!!
Congratulations to all the athletes on their hard work!
We can't wait to see you all perform May 12-14 at ESPN Wide World of Sports
#Flash #Elektra #Storm #makingtheclimb #D2Summit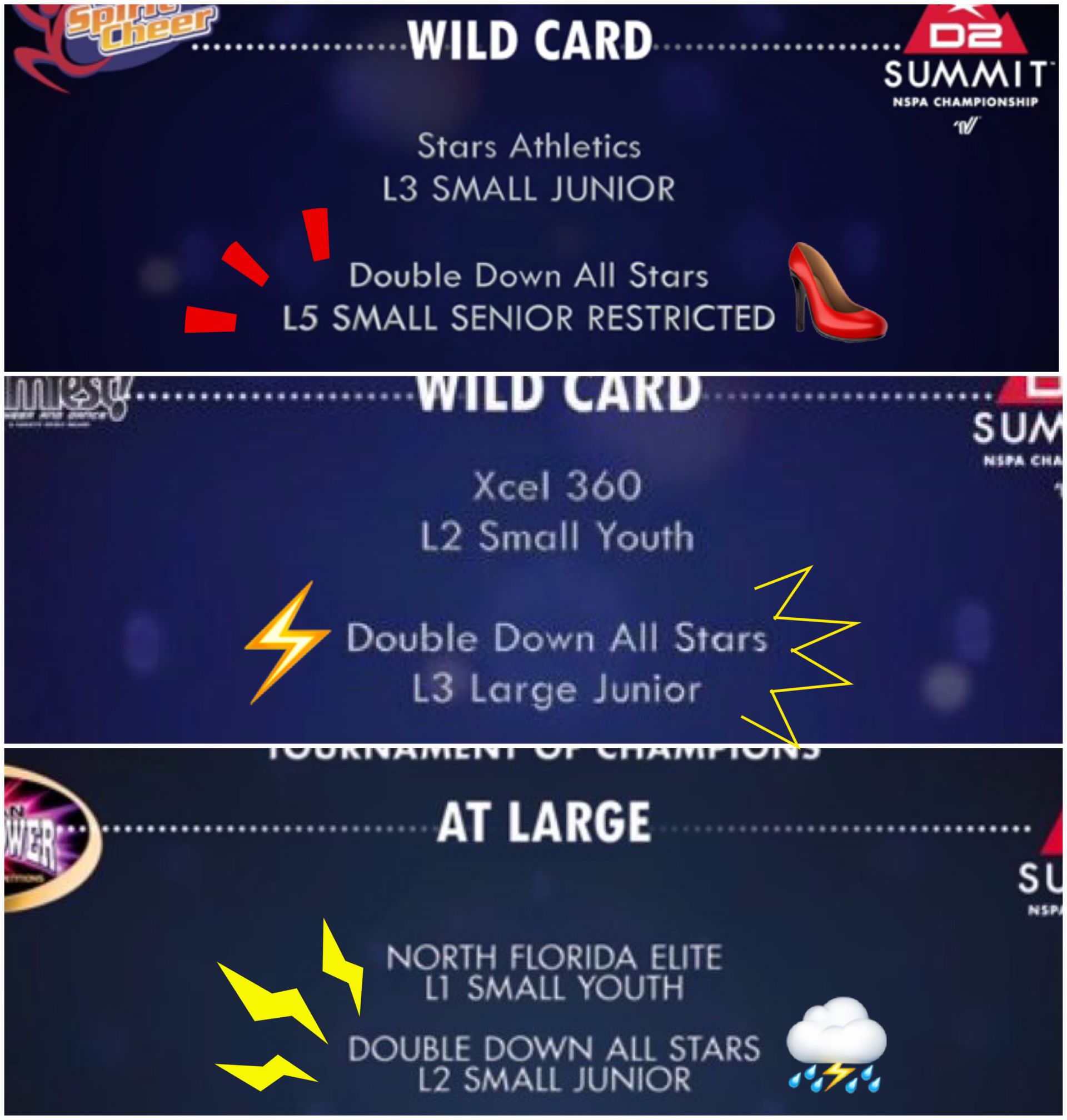 Open Gym and Open Plays
Come check out all our different Open Gym and Open Play Times
Thursday
Power Tumbling


7:00-9:00pm
Price: $20
Ages: 8 and Up
Come work on perfecting your tumbling skills in an organized open gym with our tumbling instructors
Thursday
High School/Adult Open Gym
9:00-11:00pm
Price: $10
Ages 15 and Up
Come with your friends to work on tumbling and stunting
Friday
Open Play
10:00am-12:00pm
Price:
$8 First Child
$7 Second Child
$6 Every Child After
All Ages
Come play with your friends on our inflatables and trampolines.
*Parents must stay to supervise your children
Friday
Open Gym
6:00-9:00pm
Price: $20
Includes: 2 slices of pizza and a bottle of water
Ages: 5 and Up
Come with your friends to work on tumbling and play on our inflatables and trampolines.